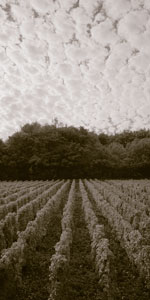 Our Vineyards
Showket Vineyard
The Showket Vineyard is situated on the Oakville Hillside overlooking the Silverado Trail and Oakville Crossroad. I would like nothing more than to write about the vineyard's soils, but it is actually the propertys lack of soil that makes it so unique. The ground is a mix of red volcanic rock and limited amounts of clay loam. The conditions at Showket are so extreme that each plant receives up to ten gallons of water weekly, and yet a day after watering, there is no trace of it.
The other key factor is the vineyard's virtually ideal orientation. It faces almost due west, so it receives sunlight from the dawns first light until the sun sets over the Mayacamas Mountains. From the Showket Vineyard we source Cabernet Sauvignon, clones 7 and 8, Cabernet Franc and Merlot, both of which predate individual numbered clones for their varietals.
The owner, Kal Showket, personally manages the vineyard. During the growing season he never leaves the property. Each day he rides through the vineyard and makes watering decisions based on what he sees, smells and tastes. The vineyard guides his choices, not a preset schedule.
Dry Stack Vineyard
It would be hard to come up with a vineyard more diametrically opposed to Showket than Dry Stack. At Showket we worry about fruit getting over ripe, while at Dry Stack we worry about the fruit getting as ripe as we would like it to be. Dry Stack is situated in Bennett Valley, a very cool micro-climate that lies at the end of the Petaluma Gap. Each afternoon the low-lying gap funnels cool breezes from the Pacific Ocean straight into Bennett Valley where it is trapped by the valley's three peaks, Sonoma Mountain, Taylor Mountain and Bennett Peak. In the late afternoon, the cold air drops the day's high temperature by eight to fifteen degrees, which slows down the grape vine's vigor and fruit ripening. Because the fruit ripens so slowly, we harvest much later than many other vineyards, often waiting until well into November.
Dry Stack's varied soil compositions make it a unique site. While the entire vineyard has a clay base, some sections are very rocky and steep, while others are hard-packed clay that feels like concrete and lacks any rocks. Because of the diverse conditions, Peter Young has divided the vineyard into a maze of watering blocks, so he has the capacity to treat each micro block separately depending on the growing conditions. Our clonal mix consists of 877, 174, 470, Estrella River and Alban One. The resulting wines are opaque purple and have great acidity and structure.